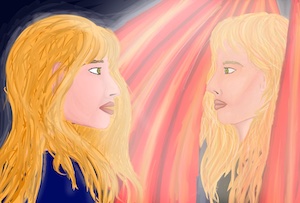 Unless you have a carrot instead of a nose, beauty is perception. You'll have beautiful women passing under the radar while others, less attractive ones, will be seen surrounded in awe by people.

I remember one of my first bosses. She was short, stout, and square like a dwarf. But she was the life of the party! She puffed up her chest as her mouth boomed with confidence. As little or typically unattractive as she was, she didn't give a damn and neither did anyone else. She was the lead producer for a series her company was trying to launch and did not go around corners when it came to getting things done. And that's why everybody loved her.

Women who aren't afraid of their looks, exhume confidence and people will perceive them as "attractive".


If women want people to pay attention to who they are rather than focus on what they look like, they need to stop giving so much importance to their looks in the first place.

Women will hate me for saying this, but if you spend 3 hours on "making yourself look good", and 2 hours on a presentation, what are you telling the people around you? Unless your appearance is part of your money bread, there is no reason for this. If you work as a nurse, or as a financial advisor, or a lawyer, your $300 eye cream will do nothing for you. Your work values you for the results you bring.

Even if you are a court facing lawyer, where you have to look clean and kept, spending more than 15m on your morning regiment will gain you very little, except dating value. And do you really want to pick up guys at the office? If your answer is "Yes", then your work priorities are screwed up and no one will respect you for what you bring to the company. which is what you are paid for. And if you're there as a "Pretty Face", don't expect equal pay.

Now, as mentioned above, I do acknowledge the dating value in spending more time on your looks, but that said, there is a downside on this. If you need so much fixing up before you go on a date, are you really surprise your date isn't that into you when you wake up without your "face on"? Or your spouse isn't attracted to you while you're pregnant?

Going back to my original argument, "Confidence is Beauty", if you take as example a "Bee Queen". It's not just her clothes and makeup that makes her a "Queen", it's the fact that she doesn't give a ** about anyone or anything and isn't afraid of being herself in all her glory. The makeup and the clothes may help you boost your confidence, but it's your confidence that will establish your power.

Listen to what I just said:

Your Confidence will establish your Power

Not your appearance. If clothes and makeup gives you a boost in confidence, it's psychological. It's taking a shortcut. Just like drugs boosting mood, it may work for a time, but the effects will wear off. Real self-confidence will stick with you no matter what. (This is how shopping can become an addiction for some.) So if you focus on what's inside of you, on your voice, and on knowing who you are, you won't need all that crap.

Just remember, I'm not telling you you can dress like a hobo if you have enough self-confidence. You need a minimum of grooming (be clean and wear clothes that fit). Make sure that your clothes do not tarnish your confidence either, but rather reflect it, and not the other way around. That's the healthy way.

Imagine how much time and money you will save!